IN-SERVICE TEACHER TRAINING IN UNIVERSITY: ACTUALITY OF TRAININGS
Keywords:
academic staff, continuing professional development, higher education institutions, trends of educating and teaching, training.
Abstract
The article is devoted to the survey results of academic staff of the Borys Grinchenko University of Kyiv on identifying topical subjects for qualification training as part of the didactic, research, leadership modules and the module on ICT. The list of topics for training courses was formed in accordance with certain current trends of higher education institutions academic staff continuing professional development, as well as taking into account the European experience of organizing advanced training courses for lecturers at universities. The survey showed that the lecturers' choice for continuing professional development is fully consistent with pan-European tendencies. The largest number of choices received trainings related to innovative teaching methods, as an improvement of teaching skills and an innovation establishment in teaching are a priority in the European higher education area. The respondents' great interest was caused by trainings on internationalization in education, which is an important aspect of both European and Ukrainian educational policy. The research showed that lecturers were less interested in training on general and social competencies, motivation and leadership qualities. As part of the module on ICT, academic staff chose trainings, dedicated to teaching improvement with innovations in ICT, that is, didactic issues of introducing the new technological tools into an educational process. The results of the survey can become a basis for a modernization of universities academic staff qualification improvement program in order to acquire new and / or improve previously acquired competencies within professional activity. The perspectives of the further researches will be a justification of competency profiles within the lecturers training program modules.
References
Bulvinska, O. (2018). Modern trends of continuing professional development of academic staff in higher education institutions. Neperervna profesijna osvita: teoriya i praktika, 1–2, 22–30. DOI: 10.28925/1609-8595.2018(1-2)2230 (ukr).
Zakon Ukrainy «Pro osvitu» [The Law of Ukraine On Education] (2017). Retrieved from http://zakon2.rada.gov.ua/ laws/show/2145-19/page3 (ukr).
Paris Communiqué (2018). Retrieved from https://mon.gov.ua/storage/app/media/news/%D0%9D%D0%BE%D0% B2%D0%B8%D0%BD%D0%B8/2018/06/06/12/paris-communiqueenua2018.pdf (ukr).
Proekt TYuNING – garmonizaciya osvitnih struktur u Yevropi [Tuning of educational structures in Europe] (2000).
Retrieved from http://www.unideusto.org/tuningeu/images/stories/documents/General_Brochure_Ukrainian_ version.pdf (ukr).
Standarty i rekomendatsii shchodo zabezpechennia yakosti v Yevropeiskomu prostori vyshchoi osvity [Standards and Guidelines for Quality Assurance in the European Higher Education Area] (2015). Retrieved from https://ihed.org. ua/images/pdf/standards-and-guidelines_for_qa_in_the_ehea_2015.pdf (ukr).
Gaebel, M., Zhang, Th. (2018). Trends 2018. Learning and teaching in the European Higher Education Area. Retrieved from-https://eua.eu/downloads/publications/trends-2018-learning-and-teaching-in-the-european-higher-education-area.pdf (eng).
Modernisation of Higher Education in Europe: Academic Staff – 2017. Eurydice Report (2017). Luxembourg, Luxembourg: Publications Office of the European Union. DOI: 10.2797/408169 (eng).
The European Higher Education Area in 2018: Bologna Process Implementation Report (2018). Luxembourg, Luxembourg: Publications Office of the European Union. DOI: 10.2797/265898 (eng).
Trends 2015: Learning and Teaching in European Universities (2015). Brussels, Belgium: EUA publication (eng).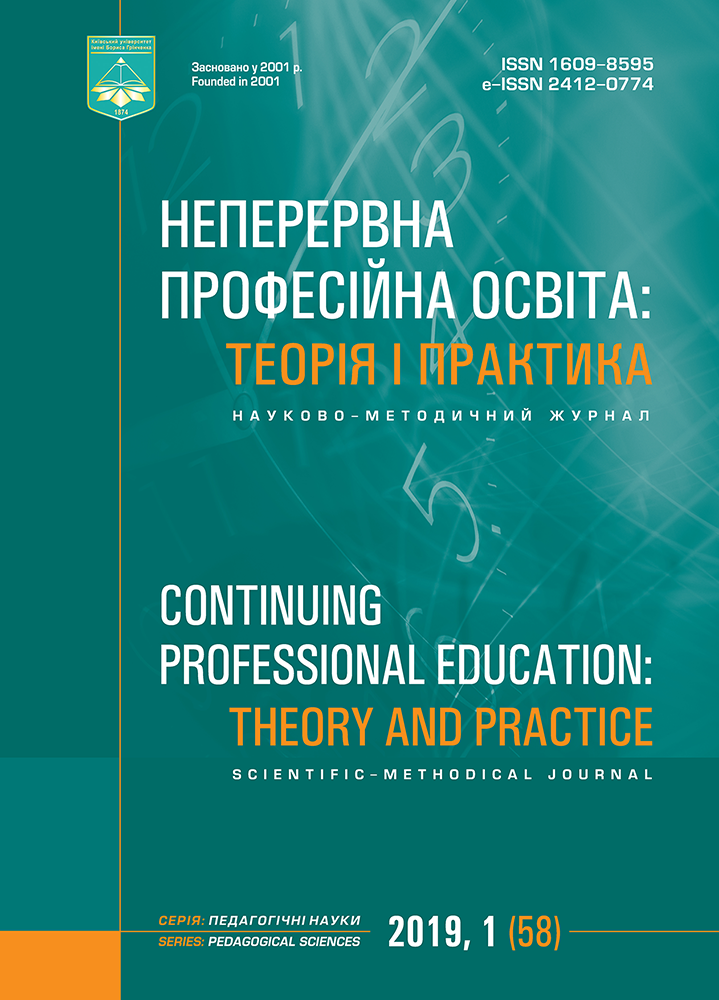 Downloads
How to Cite
Bulvinska, O., & Kapralova, I. (2019). IN-SERVICE TEACHER TRAINING IN UNIVERSITY: ACTUALITY OF TRAININGS. Continuing Professional Education: Theory and Practice, (1), 53–59. https://doi.org/10.28925/1609-8595.2019.1.5359
Section
PRACTICE OF CONTINUING PROFESSIONAL EDUCATION
License
Copyright (c) 2020 Oksana Bulvinska, Irina Kapralova
This work is licensed under a Creative Commons Attribution-NonCommercial 3.0 Unported License.

Licence Creative Commons Attribution-NonCommercial 3.0 Unported (CC BY-NC 3.0)